Look at real estate companies in Nepal.
Real Estate Company?
Real estate company are a private registered platform which deals on Buy, Sale, Rental property or Develop properties around the world. Real estate are mostly deal with Land plots, Apartments, Colony and infrastructure developing .
There are different categories under REAL ESTATE in Nepal.
RESIENTIAL
COMMERCIAL
INDUSTRIAL
LAND
Realtors/Agent
Real estate Agents are those bodies who act a solution provider to your real estate dream. They provide helps to individuals, group, businesses & investors in process of buying, selling and leasing properties around the world. Agents can provide you a wide range of market physical listing lands and on sale properties. They can help you to find and negotiate with price amounts as well. They charge commission as well for the solution provider. Normally in Nepal Agent charge 2% and above charge to your total sale amount. If you are looking to buy or to sell try to talk to real estate agents around your place which can make your deal go through potential peoples.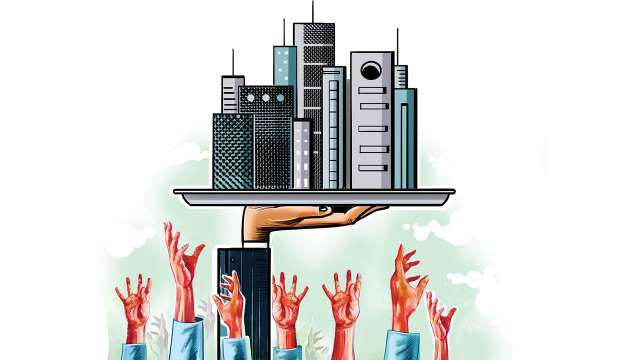 Here are some offical registered Real estate companies around Nepal.
Basobass.com
Basobaas is reimagining how people buy, rent and sell homes, empowering them with the data and services they need to get into a place they love. https://basobaas.com/
SkVentures

Find our Property which are on Sale http://www.skventures.com.np/
NepalHomes
Welcome to our official page! Nepalhomes, backed by experienced and successful entrepreneurs has been envisioned as Nepal's largest property marketplace and the first one stop trusted portal for real estate. Stay tuned! https://www.nepalhomes.com/
NepalBhoomi
Nepal Bhoomi is a pioneer estate agents helping property owners/developers smoothen the transitions of selling renting and management of their properties.https://www.nepalbhoomi.com/
Gharsansar
Trusted Government verified Real Estate Company gharsansar.com.np we offer wide range of property. From lowest to highest price all you can find it at one place. गुणस्तरीय घरजग्गाको लागि घरसंसार http://www.gharsansarnepal.com/
Gharbikri Kendra
Our Vision Delivering trustworthy experiences to the clients. Our Mission Our mission is to continue to be one of the best real estate selling, buying & renting site in Nepal.http://www.gharbikrikendra.com/
Gharbaas
Gharbaas.com is Nepal's No. 1 Property Website and has been adjudged as the most preferred property site in Nepal, by independent surveys. http://www.gharbaas.com/
Gharbazar
http://www.gharbazar.com/
99 Anna
99aana.com is Nepal's No. 1 Property Website and has been adjudged as the most preferred property site in Nepal https://99aana.com/
Gharjagganepal
GHAR JAGGA NEPAL MAKES EASIER TO BUY , SELL, RENT , EXCHANGE PROPERTY & BUSINESS ALL OVER NEPAL .https://www.gharjagganepal.com/
Kantipur
घर/जग्गा किन्ने र बेच्ने बिच सिधा सम्पर्क गराई 0 %कमिशनमा अत्याधिक घर/जग्गा खरिद बिक्रि गराऊन सफल नेपालकै सर्वउत्कृष्ट कम्पनी Kantipurrealestate.com हामी तपाईको घर/जग्गा सही समय र उचित मुल्यमा बेचिदिन्छौ ।http://www.kantipurrealestate.com/
Property 360
A leading real estate consulting company for buying, selling, leasing of land, house and apartment. http://www.property360.com.np/
1 Ropani
1Ropani.com is a platform to disseminate real estate industry information. We provide comprehensive detail on real estate properties which are for sale or rent, including current news and information about real estate market.http://www.1Ropani.com/
Jaggajamin
One Point Real Estate Solution https://jaggajamin.com/
Propertyhub Nepal
Property Hub Nepal is established with the aim of providing services related to real estate periphery http://propertyhubnepal.com/
Tyson
Tyson RealEstate is a proptech company that serves the real estate businesses with a one-stop property marketplace, authentic real estate knowledge center, and an exclusive, marketing platform located in Dharan, Nepal.https://tysonrealestate.group/
Sheetal
BUY | SELL | RENT | PROPERTY MANAGEMENT | DEVELOPMENT AND INVEST Nepal's No.1 Real Estate Agency of Your Choice.http://www.sheetalproperty.com/
Prabhu
Prabhu Real Estate connects property buyers, sellers and property agents in one platform in nepal. http://www.prabhurealestate.com/
Eproperty
With thousands of properties listed from various big and smaller cities eProperty Nepal is the most recommended name in real estate.http://epropertynepal.com/
Property Nepal
Nepal's Real Estate Digital Platform for Buying Selling Lease and Rental.http://www.propertynepal.com/
Sahil
Sahil Real Estate is Nepal's growing and leading independent real estate agency. Every year, Sahil Real Estate helps tens of thousands of people buy, sell, let or rent their properties through its network that spans all over Nepal. https://www.sahilrealestate.com/
Gems Property
We are real estate service based in Kathmandu.http://www.gemspropertyservices.com/